Luke Kuenzli, Pastor

April Worship

9:00 Sunday School, Choir
Inter-Generational Catechisms

10:00 Fellowship & Coffee

10:30 Worship & Communion

---
Celebrating Palm Sunday


The Sunday School Students made Solomon's Temple out of edibles. The temples in the photo survived out of the classroom; the others were eaten!
Everyone received a palm to wave as the congregationl followed the palm adorned cross in for the service.

---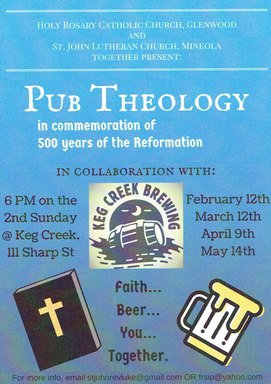 Pub Theology
April 9th
6:00

The discussion will focus on Communion;
what the Catholics and Lutherans believe.
Everyone is invited to this lively and fun evening of discussion.
Join us at the Keg Creek Brewery.
Hosted by
Holy Rosary Catholic Church, Glenwood
and St. John Lutheran Church, Mineola.


---
Remember food donations are needed year around. Please bring your donations and place in the shopping cart in the Narthex. Food items are donated to the Mills Co. Food Pantry and the Ministerial Association's Food Pantry. Bring the items in, weigh it, record in in the binder and place in the cart. We are called to glorify God, grow in faith, and build community. Check the Newsletter for items needed.



---
Read Jane and Louis
Faulstich's April newsletter about their latest experiences from the mission field. Serving together,
Louis & Jane
Click on the following to read about what they are seeing and doing in Vanuatu.


Read about building their house and a "outhouse".